Sacred
Spirit of
the Andes
Since the time of the Incas, cocaleros have been carefully cultivating the coca leaf which plays an important role in Andean life. Coca leaves are used to suppress altitude sickness and to reduce feelings of hunger, thirst and pain; they also promote energy and stamina. Cocalero includes coca leaf, ginseng, juniper, guarana, orange peel and ginger, for a mysterious and intriguing flavor.
Cocalero uses a specialised steam distillation process pioneered by the perfume industry to extract the complex flavors and essential oils from the delicate botanicals. The final distillate is then blended to this proprietary recipe that continues to grow in global popularity.
Bottled at 29% ABV, Cocalero is a mid-strength spirit and is extremely versatile. It can be enjoyed straight as a shot, in a CocaBomb, as a long drink, or as an ingredient in refreshing cocktails.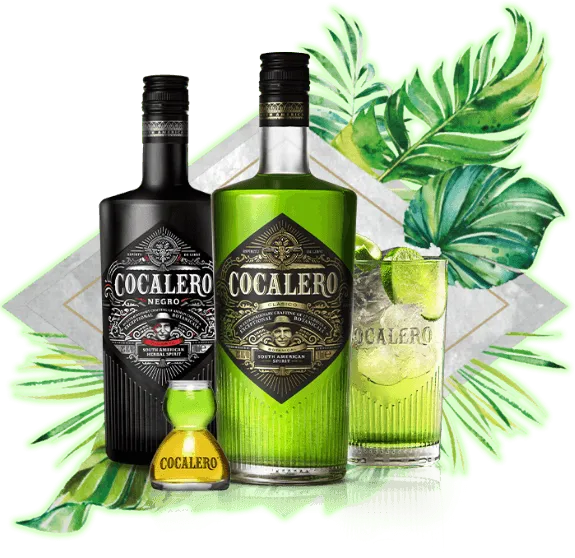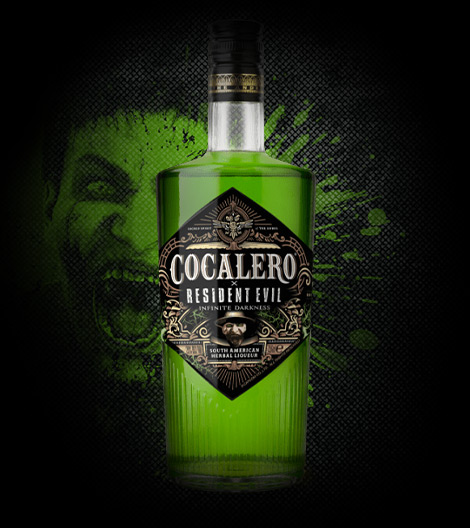 COCALERO CLÁSICO x "Resident Evil: Infinite Darkness"
750ml - 29% Alc by Vol
Buy Resident Evil
COCALERO CLÁSICO
750ml - 29% Alc by Vol
Buy CLÁSICO
COCALERO NEGRO
700ml - 29% Alc by Vol
Buy NEGRO
Our Signature
Cocabomb™ glass
Free with every bottle purchased
Reviews
Good Spirits News
"Initially quite sweet and in the liqueur category, after a half a minute that fades and a gentle herbal blend comes into play. Nothing aggressive or overwhelming, but rather a mild numbing quality coupled with a tinge of fruitiness."
Drinkhacker
"The nose is heady and complex, with mint, anise, marjoram, and a spray of less identifiable herbs. Quite sweet but not overblown, the mix of green herbs leads to a finish of mint, subdued anise, and less obvious herbal elements."
Customer Reviews
11/26/2022
Andrew M.

US
Delicious
It was great very yummy product
11/20/2022
Deborah J.

US
Makes a delicious Ramos Gin Fizz!
It was excellent
11/19/2022
Blake J.

US
Not-so-Evil Shot Glass
This shot glass has a unique shape that is comfortable to hold, and excellent for sipping or taking shots.
11/19/2022
Blake J.

US
Amazing Drink with a Smooth Finish
This Cocalero is reminiscent of Jaegermeister or absinthe, with the flavor of black licorice. This drink, however, has a sweeter taste, and goes down more smoothly. This is a great drink on its own, or as a mixer, and is perfect for getting in the mood to take on ghouls and zombies in the Resident Evil universe.
11/16/2022
Napoleon C.

US
Cocalero Resident evil limited edition
The bottle is awesome, collectors item. The alchohol is different, but good. Kinda like a cough syrup I guess. But it's really the best when mixed iike the suggestions on the website. Would buy again
11/14/2022
Donald H.

US
Interesting
This is a very unique liqueur! Strong ginger mixer seems to bring out the flavors more, as opposed to energy drinks, when making Coca bombs. Sharing the experience with folks out here in Wyoming and they all talk about how smooth it is.
11/14/2022
Elijah M.

US
Great drink
Really great came In super fast enjoyed it a bunch
10/27/2022
Jeremiah M.

US
Loved the crossover. Not too hot on the taste.
The bottle is the perfect display piece. The little glass is also charming. But I'm just not a big fan of the taste. Everyone has different taste buds. So don't be afraid to give it a try. I just wasn't a huge fan. I'm going to be experimenting with different mixers to see of I can find a good mix.
10/24/2022
Alan C.

US
Sweeeeeeet glass
This thing is awesome
10/24/2022
Alan C.

US
Great drink
Great tasting drink. I love the chaser/shot glass that came with it. I use lemonade to shoot with it. It leaves a little floral after taste but not bad. I will definitely be buying more when I'm out. Thanks
10/23/2022
Joey W.

US
Awesome designed shot/bomb glass.
CocaBomb glass makes drinks so easy and awesome looking
10/23/2022
Obrian G.

US
Missing box
The one complaint that I have is that I didn't receive the resident evil box. I really wanted it. But other then that it tastes pretty good
10/23/2022
Joey W.

US
Just amazing !!!
EVERYTHING I mix with this is just amazing . Keep up the great work.
10/16/2022
Brandon R.

US
Taste
I like the after taste it has
10/16/2022
Vicente P.

US
Strange but delicious
I've never had an herbal spirit before, but this was just delicious. And dangerous ha ha. It's dangerous in the way rumchata is, once you get past the taste of alcohol, if you keep drinking you'll finish the whole bottle before you know it
10/14/2022
Peter Z.

US
Love it!
Simply one of the best liquors I've recently had. Getting more for sure!

Be the first to hear about new releases and get access to exclusive events.