Sacred
Spirit of
the Andes
Since the time of the Incas, cocaleros have been carefully cultivating the coca leaf which plays an important role in Andean life. Coca leaves are used to suppress altitude sickness and to reduce feelings of hunger, thirst and pain; they also promote energy and stamina. Cocalero includes coca leaf, ginseng, juniper, guarana, orange peel and ginger, for a mysterious and intriguing flavor.
Cocalero uses a specialised steam distillation process pioneered by the perfume industry to extract the complex flavors and essential oils from the delicate botanicals. The final distillate is then blended to this proprietary recipe that continues to grow in global popularity.
Bottled at 29% ABV, Cocalero is a mid-strength spirit and is extremely versatile. It can be enjoyed straight as a shot, in a CocaBomb, as a long drink, or as an ingredient in refreshing cocktails.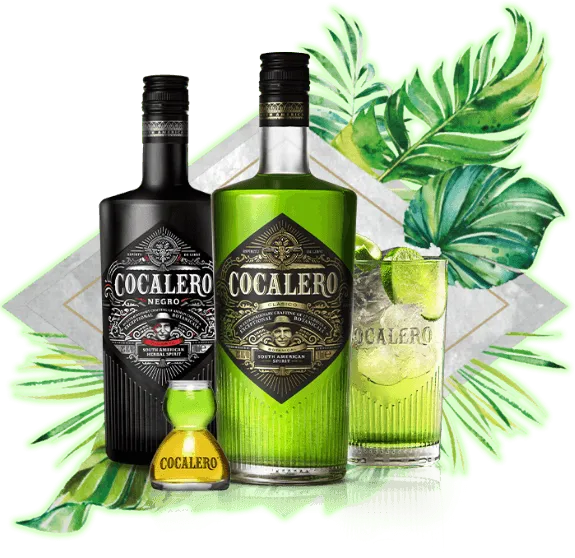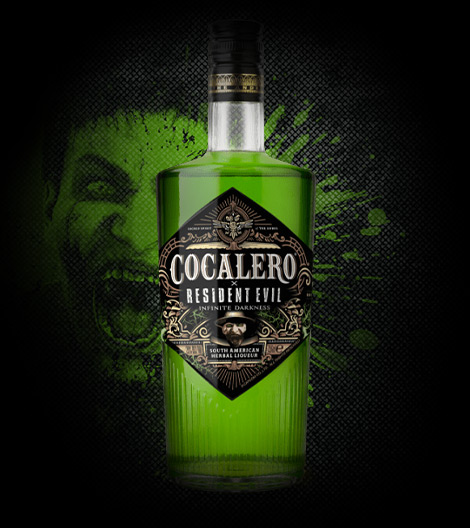 COCALERO CLÁSICO x "Resident Evil: Infinite Darkness"
750ml - 29% Alc by Vol
Buy Resident Evil
COCALERO CLÁSICO
750ml - 29% Alc by Vol
Buy CLÁSICO
COCALERO NEGRO
700ml - 29% Alc by Vol
Buy NEGRO
Our Signature
Cocabomb™ glass
Free with every bottle purchased
Reviews
Good Spirits News
"Initially quite sweet and in the liqueur category, after a half a minute that fades and a gentle herbal blend comes into play. Nothing aggressive or overwhelming, but rather a mild numbing quality coupled with a tinge of fruitiness."
Drinkhacker
"The nose is heady and complex, with mint, anise, marjoram, and a spray of less identifiable herbs. Quite sweet but not overblown, the mix of green herbs leads to a finish of mint, subdued anise, and less obvious herbal elements."
Customer Reviews
05/09/2022
JAMES C.

US
Cocalero
Just great. Shipping was quick and had a nice lady on the phone who help get my order through, Thanks again
05/06/2022
Angel D.

US
New favorite Drink
It's kinda odd but really good. I will definitely be buying more when I go through my bottles.
05/06/2022
Cody S.

US
I love it
Great! 2nd time ordering 3 bottles. About to get 3 more!
05/06/2022
Daniel Z.

US
Unique
It was pretty good stuff, liked the taste alot very different.
05/05/2022
Tom S.

US
Did a couple CocaBombs
Tried with a few different mixers. Loved the ones we tried; need to do more! :)
05/04/2022
Oscar A.

US
Fantastic
Good minty and hint of citrus taste...
05/04/2022
Rachel S.

US
Nice
A hit of chamomile gives a great taste, and a rounded herbal taste overall. Might be a little strong for some but great for me. Go for it, live a little (again)
05/04/2022
Elijah B.

US
Great
Great product, nice design.
05/04/2022
Elijah B.

US
Great
Nice design, works well.
05/04/2022
Elijah B.

US
Great Product
Great product, very good with citrus sodas or ginger beer.
05/04/2022
Elijah B.

US
Great Product
Packaging for shipping was top notch, bottle is nicely designed, and it tastes great. Pair this with some ginger beer or sprite... perfect.
05/04/2022
Timothy B.

US
Makes a fun CocaRita
My wife loves margaritas, so for St. Patrick's Day, I wanted to make a green version for her. The CocaRita was perfect, producing an almost pastel-hued green, while offering plenty of flavor and sweetness. I used Cocalero as a substitute for Cointreau, and only needed a scant barspoon of agave syrup, since Cocalero is sweeter than triple sec (and my wife prefers sweet margaritas). While different from the orange in triple sec, the Cocalero brings its own interesting flavor combinations to the cocktail.
05/04/2022
james r.

US
Awesome
Its has a very unique flavor that i love
05/04/2022
Daniel M.

US
My new favorite drink
This drink has a unique enjoyable taste, that can be enjoyed on its own or mixed with whatever you want. It also came with a cool cup that makes mixing even cooler. Had a small gathering to try it out, and we went through it quickly trying out different mixes. definitely would like to see this more in stores, but next time I'm going to order more than one
04/14/2022
Michelle R.

US
Love it!
Arrived well packaged and on time. Love the taste, definitely a new favorite!
04/06/2022
Audrianna D.

US
So cool.
Made the drink even more fun to make!

Be the first to hear about new releases and get access to exclusive events.