Cocalero
CLÁSICO
750ML - 29% Alc. by Vol.
$29.99
Since the time of the Incas, cocaleros have been carefully cultivating the coca leaf which plays an important role in Andean life. Coca leaves are used to suppress altitude sickness and to reduce feelings of hunger, thirst and pain; they also promote energy and stamina. Cocalero Clásico includes coca leaf, ginseng, juniper, guarana, orange peel and ginger, for a mysterious and intriguing flavor.
Cocalero Clásico uses a specialised steam distillation process pioneered by the perfume industry to extract the complex flavors and essential oils from the delicate botanicals. The final distillate is then blended to this proprietary recipe that continues to grow in global popularity.
Bottled at 29% ABV, Cocalero Clásico is a mid-strength spirit and is extremely versatile. It can be enjoyed straight as a shot, in a CocaBomb, as a long drink, or as an ingredient in refreshing cocktails.
A UNIQUE
CRAFTING OF
BOTANICALS
Juniper
Used in a wide variety of culinary dishes. Best known as the primary flavoring in gin.
Ginger
A popular spice around the world, used to spice up meals, or as a medicine.
Guarana
Used in sweetened or carbonated soft drinks and energy drinks, an ingredient of herbal teas.
Green Tea
A type of tea that is made from Camellia sinensis leaves and buds.
Signature
Serves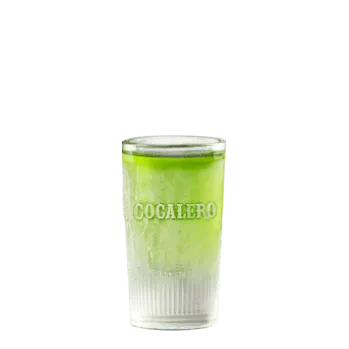 Cocashot
Keep it simple with a shot served at sub zero.

CocaBomb
Using our signature glass, layer Cocalero over your favourite mixer or energy drink.

COCASPRITZ
Serve over ice and top with Prosecco and Elderflower Tonic. Garnish with a citrus peel.

Cocatonic
Pour Cocalero Clásico over ice in a highball glass. Top with premium tonic and garnish with a slice of lime.

Awards
Double Gold
SIP Awards
2018
90
Points
NYISC Awards
2020