Sacred
Spirit of
the Andes
Since the time of the Incas, cocaleros have been carefully cultivating the coca leaf which plays an important role in Andean life. Coca leaves are used to suppress altitude sickness and to reduce feelings of hunger, thirst and pain; they also promote energy and stamina. Cocalero includes coca leaf, ginseng, juniper, guarana, orange peel and ginger, for a mysterious and intriguing flavor.
Cocalero uses a specialised steam distillation process pioneered by the perfume industry to extract the complex flavors and essential oils from the delicate botanicals. The final distillate is then blended to this proprietary recipe that continues to grow in global popularity.
Bottled at 29% ABV, Cocalero is a mid-strength spirit and is extremely versatile. It can be enjoyed straight as a shot, in a CocaBomb, as a long drink, or as an ingredient in refreshing cocktails.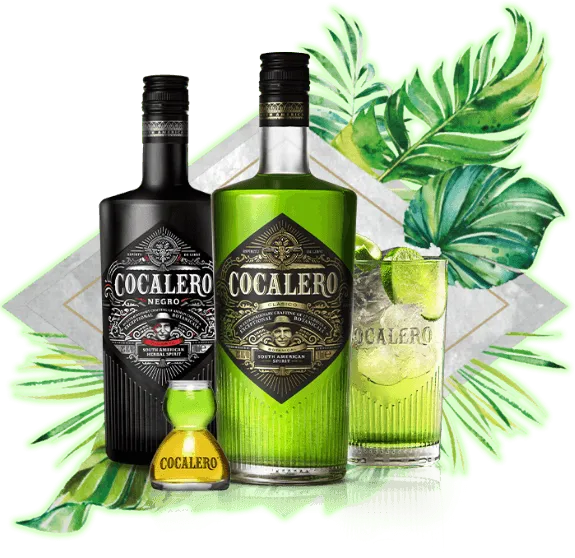 Our Signature
Cocabomb™ glass
Free with every bottle purchased
Reviews
Good Spirits News
"Initially quite sweet and in the liqueur category, after a half a minute that fades and a gentle herbal blend comes into play. Nothing aggressive or overwhelming, but rather a mild numbing quality coupled with a tinge of fruitiness."
Drinkhacker
"The nose is heady and complex, with mint, anise, marjoram, and a spray of less identifiable herbs. Quite sweet but not overblown, the mix of green herbs leads to a finish of mint, subdued anise, and less obvious herbal elements."
Customer Reviews
01/14/2022
Kayla L.

US
Great product!!
Fast and secure shipping! Great customer service and the product itself is unique and a must have! Thank you!
01/13/2022
Dani M.

US
Buy it!!!
I got one to drink and one to savor forever for my collection! Buy it, you won't regret it. Great packaging to ensure safety. Fast shipping, too.
01/13/2022
Stuart S.

US
Very good!
Was pleasantly surprised by the taste! (first timer) definitely something I will pick up again.
01/13/2022
Jeffrey V.

US
Smooth
I loved the color and smell we ended up mixing it with cranberry ginger ale and what a delicious winter drink
01/12/2022
Ashley M.

US
Very good!
10/10! This is very delicious!
01/09/2022
Roger P.

United States
no review needed,,5 stars
No review needed. 5 STARS !!!!!
01/07/2022
Aaron K.

US
Unique experience
I haven't quite tasted a liquor like it. It is a unique experience and I enjoy it to mix my pallette when I am having a few. It mixes really well in the provided shot glass with Piña colada mix!
01/07/2022
Danniel B.

US
Resident evil
Taste smooth and good favor I love it
This is exclusive for sure
I been there done that; herbs are my occupation just received beverage lol aside thank you guys. Id love a link of multiple drink mixes. I saw herbal liquor . oh yeah something that I can dig .. Ya Dig'Zzz...? 🍷 for me it's rare n exclusive beverage perfectò of ammo t if alcohol moderating to my new lifestyle
12/28/2021
Damon L.

US
So smooth…
So smooth my throat forgot I drank it. We went thru 3 bottles in too little time. Will order again
12/18/2021
Jose O.

US
I love the product
Love the bottles, something to add to my collection, only thing was I ordered 3 bottles but only received 2 shot glasses and wished the bottles came with boxes to match. But over love it
12/10/2021
Michael N.

US
Cool design and nice piece.
Collection piece to add to my Resident Evil collection. Cool design and connections to the Infinite Darkness series.
12/09/2021
Jeremy P.

US
Bomb Shot Glass
Amazing! Loved it!
12/09/2021
Jeremy P.

US
COCALERO X Resident Evil
Amazing! Arrived quickly in Preston's condition! Super happy to even see this make its way to the US and thrilled with the free bomb shot glass that came with it!
12/09/2021
Dustin L.

US
Amazing drink
Definitely going to buy more it's perfect by itself and as a mixer. Highly recommend if you want something sweet and minty as an add in for another drink.
12/09/2021
David A.

US
Great new find
The ***** is a little tougher to poor a bomb. But tasty with ginger beer. I love the green as a bomb with grapefruit soda.

Be the first to hear about new releases and get access to exclusive events.