Sacred
Spirit of
the Andes
Since the time of the Incas, cocaleros have been carefully cultivating the coca leaf which plays an important role in Andean life. Coca leaves are used to suppress altitude sickness and to reduce feelings of hunger, thirst and pain; they also promote energy and stamina. Cocalero includes coca leaf, ginseng, juniper, guarana, orange peel and ginger, for a mysterious and intriguing flavor.
Cocalero uses a specialised steam distillation process pioneered by the perfume industry to extract the complex flavors and essential oils from the delicate botanicals. The final distillate is then blended to this proprietary recipe that continues to grow in global popularity.
Bottled at 29% ABV, Cocalero is a mid-strength spirit and is extremely versatile. It can be enjoyed straight as a shot, in a CocaBomb, as a long drink, or as an ingredient in refreshing cocktails.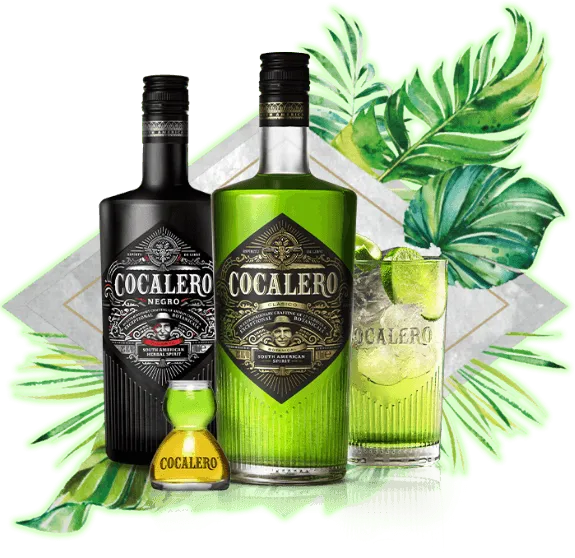 Our Signature
Cocabomb™ glass
Free with every bottle purchased
Reviews
Good Spirits News
"Initially quite sweet and in the liqueur category, after a half a minute that fades and a gentle herbal blend comes into play. Nothing aggressive or overwhelming, but rather a mild numbing quality coupled with a tinge of fruitiness."
Drinkhacker
"The nose is heady and complex, with mint, anise, marjoram, and a spray of less identifiable herbs. Quite sweet but not overblown, the mix of green herbs leads to a finish of mint, subdued anise, and less obvious herbal elements."
Customer Reviews
11/30/2021
Kevin A.

US
Not for me
It tastes like listerine.
11/09/2021
Mark K.

US
The best
Love it! Need more already!!
10/26/2021
Jason S.

US
Love it!
Cocalero is awesome! I keep it in stock in my bar. Usually go thru a couple of bottles a week.
Fantastic!
I was a bit skeptical, as I'd never heard of Cocalero until I saw it listed in the ingredients to a Mead cocktail. Being naturally adventurous with flavors, though, I took a risk. And I am SO glad I did. Mixed with cola, this is one of the most pleasant, flavorful alcohols I've ever consumed. I highly recommend it. I've even taken up a crusade to get all the local bars to stick it!
09/25/2021
Myk M.

US
Mindblowingly ******* Awesomely Delicious
Taste Fantastic. Ship to Vermont Liquor Stores! Will be telling all my friends
09/25/2021
Joshua H.

US
Okay and a little misleading
So I bought this liquor cause it seemed interesting. Talks about Spirit of the Andes and its a South American product. However reading the bottle other than ingredients it has nothing to do with South America. It's Iicensed, produced, and shipped out from Ireland and distributed through local sources. Wasnt crazy to learn that. Also it basically tastes like black licorice which is a flavor I personally can't stand. It is a bit subtle compared to other alcohols such as Absinthe but the taste is still a no go for me and I feel I wasted my money on something that did not meet my expectations. I gave 3 stars because of this as well as the fact that it isn't horrible by any means. But its not my cup of tea.....or liquor for that matter.
09/11/2021
Melisa W.

US
Cocoalero
Love it wonderful ❤
09/11/2021
Melisa W.

US
Cocoalero
Loved it,its beautiful enjoyable and mixes so well .love 💖it
09/10/2021
Roberta R.

US
Awesome
It is smooth and a little spicy but good I would recommend it
08/07/2021
Marco N.

US
Presentación Excelente
Todo muy bueno todo muy bien nose puede pedir más recomendable
08/07/2021
Thom S.

US
Very tasty
I had no idea what to expect, but I must say I was very pleasantly surprised by the flavor of this liquor. The shipping was extremely fast as well.
07/30/2021
Geri M.

US
Excellent Buy!
This is an extremely enjoyable version of a normally bright green herbal spirit. The addition of spiciness from the aji panca chili pepper and caramel coloring begs for this to be paired with cola, and Cocalero ***** also reminds me of a mellow amaro. It's going to be fun experimenting by mixing this with different base spirits(both clear and brown) as well as solo as a low alcohol aperitif or digestif with seltzer, sparkling wine, or tonic water.
07/23/2021
Michael S.

US
First time
I almost threw it out I didn't see it in the box. Haven't used it yet.
07/23/2021
Michael S.

US
First time
It was absolutely delicious and my friends loved it as well. They had never heard of it and neither had I but it's GREAT. Thank you
07/21/2021
KATHLEEN M.

United States
LOVE IT
I BOUGHT BOTH, AND I LOVE THEM. WILL BUY AGAIN! CUSTOMER SERVICE IS GREAT TOO.
07/21/2021
Jhamaine E.

US
Opinion
It was very enjoyable.

Be the first to hear about new releases and get access to exclusive events.