Sacred
Spirit of
the Andes
Since the time of the Incas, cocaleros have been carefully cultivating the coca leaf which plays an important role in Andean life. Coca leaves are used to suppress altitude sickness and to reduce feelings of hunger, thirst and pain; they also promote energy and stamina. Cocalero includes coca leaf, ginseng, juniper, guarana, orange peel and ginger, for a mysterious and intriguing flavor.
Cocalero uses a specialised steam distillation process pioneered by the perfume industry to extract the complex flavors and essential oils from the delicate botanicals. The final distillate is then blended to this proprietary recipe that continues to grow in global popularity.
Bottled at 29% ABV, Cocalero is a mid-strength spirit and is extremely versatile. It can be enjoyed straight as a shot, in a CocaBomb, as a long drink, or as an ingredient in refreshing cocktails.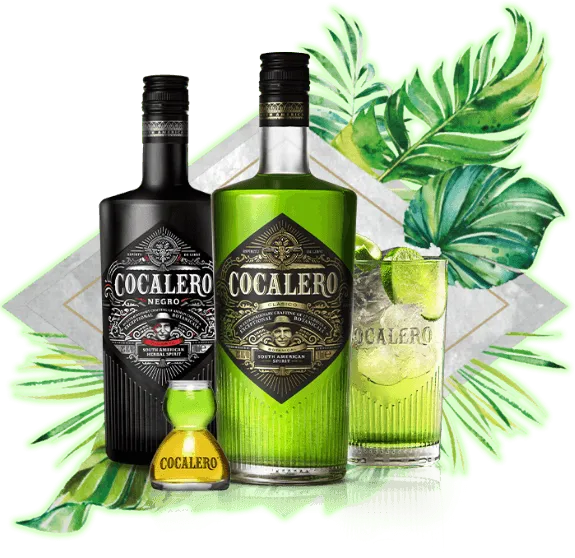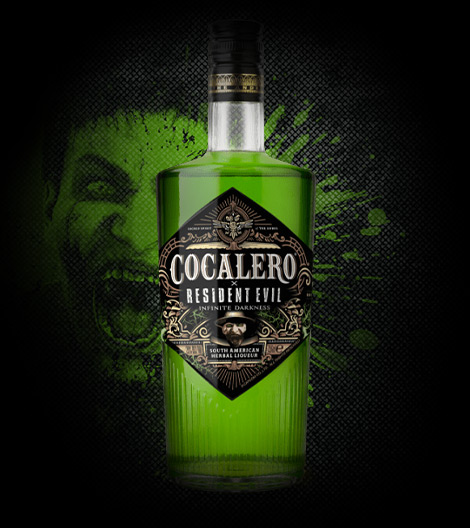 COCALERO CLÁSICO x "Resident Evil: Infinite Darkness"
750ml - 29% Alc by Vol
Buy Resident Evil
COCALERO CLÁSICO
750ml - 29% Alc by Vol
Buy CLÁSICO
COCALERO NEGRO
700ml - 29% Alc by Vol
Buy NEGRO
Our Signature
Cocabomb™ glass
Free with every bottle purchased
Reviews
Good Spirits News
"Initially quite sweet and in the liqueur category, after a half a minute that fades and a gentle herbal blend comes into play. Nothing aggressive or overwhelming, but rather a mild numbing quality coupled with a tinge of fruitiness."
Drinkhacker
"The nose is heady and complex, with mint, anise, marjoram, and a spray of less identifiable herbs. Quite sweet but not overblown, the mix of green herbs leads to a finish of mint, subdued anise, and less obvious herbal elements."
Customer Reviews
09/29/2023
Brian H.

US
Good stuff
I like the taste smooth and tastes great
09/23/2023
Jesse B.

US
Exceeded expectations
My bottles were packaged carefully and the product tasted way better than I could have imagined. Great with a lime or make a bomb with pineapple juice. I'm sure I'll want more soon!
09/22/2023
Terry G.

US
Got it for a friend
He loves the smooth taste and is planning on using the recipes on the website later.
09/22/2023
Edward G.

US
Defective bottle
First one I got it was leaking and was very sticky. Second one I got the bottle cap was very loose ro where the bottle started leaking when updside down. Didnt even break the cap open yet. Either way I'm too afraid to even try drinking anything from it.
09/21/2023
Andrew C.

US
Love it
Love the cocabomb makes a great addition to my collection
09/21/2023
Andrew C.

US
Awesome
Tastes great. Totally worth the money!
09/21/2023
Nicoly G.

US
Great
Awesome! When mixed.
09/15/2023
Michael F.

US
Great taste
We absolutely love this. It tastes great, is really smooth. And has an awesome green color.
09/07/2023
RICK L.

US
My Cocabomb!
I just love my Cocabomb glass!
09/07/2023
RICK L.

US
My Cocalero
My Cocalero is Awesome!
09/02/2023
George B.

US
09/02/2023
George B.

US
Awesome product
Delicious and smooth will definitely get again
09/02/2023
Sara Q.

US
Magic liquid
Shipping was done with LOVE! Be prepared for an Amazing Flavor.
09/01/2023
Neal B.

US
CocaBomb Shot Glass !
Awesome shot glass !!!!
09/01/2023
Neal B.

US
Cocalero / Resident Evil
Great alcoholic mixer !!!! SOOOO GOOD !!!
08/28/2023
Vicki H.

US
Mad March Hare Irish Poitin
I bought it out of curiosity and was pleasantly surprised at how much I like it. I've been drinking a shot with ginger beer and ice. Very nice.

Be the first to hear about new releases and get access to exclusive events.