Sacred
Spirit of
the Andes
Since the time of the Incas, cocaleros have been carefully cultivating the coca leaf which plays an important role in Andean life. Coca leaves are used to suppress altitude sickness and to reduce feelings of hunger, thirst and pain; they also promote energy and stamina. Cocalero includes coca leaf, ginseng, juniper, guarana, orange peel and ginger, for a mysterious and intriguing flavor.
Cocalero uses a specialised steam distillation process pioneered by the perfume industry to extract the complex flavors and essential oils from the delicate botanicals. The final distillate is then blended to this proprietary recipe that continues to grow in global popularity.
Bottled at 29% ABV, Cocalero is a mid-strength spirit and is extremely versatile. It can be enjoyed straight as a shot, in a CocaBomb, as a long drink, or as an ingredient in refreshing cocktails.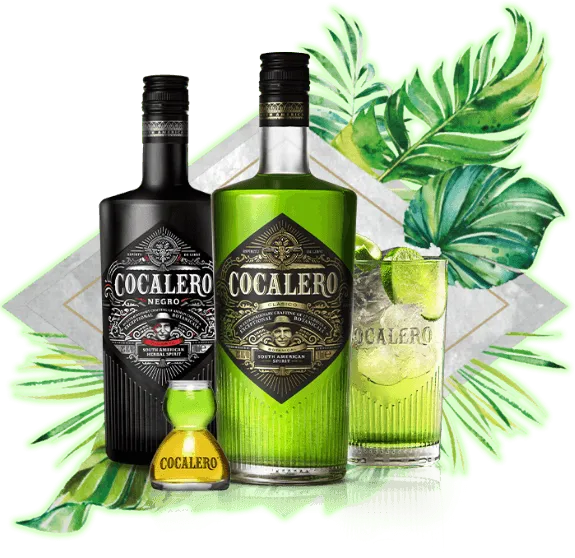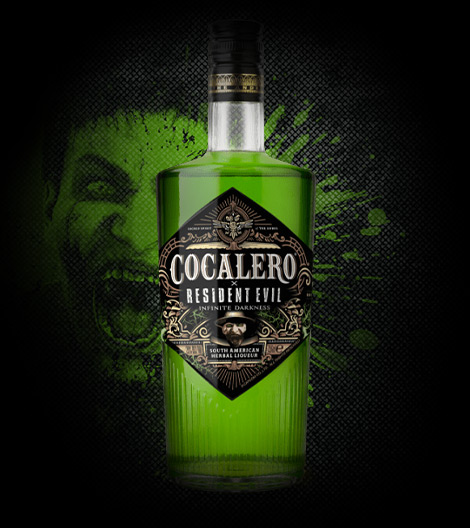 COCALERO CLÁSICO x "Resident Evil: Infinite Darkness"
750ml - 29% Alc by Vol
Buy Resident Evil
COCALERO CLÁSICO
750ml - 29% Alc by Vol
Buy CLÁSICO
COCALERO NEGRO
700ml - 29% Alc by Vol
Buy NEGRO
Our Signature
Cocabomb™ glass
Free with every bottle purchased
Reviews
Good Spirits News
"Initially quite sweet and in the liqueur category, after a half a minute that fades and a gentle herbal blend comes into play. Nothing aggressive or overwhelming, but rather a mild numbing quality coupled with a tinge of fruitiness."
Drinkhacker
"The nose is heady and complex, with mint, anise, marjoram, and a spray of less identifiable herbs. Quite sweet but not overblown, the mix of green herbs leads to a finish of mint, subdued anise, and less obvious herbal elements."
Customer Reviews
01/29/2023
Daniel G.

US
Wanted this to be great
Honest review. I had high hopes for Cocalero classic/ Resident Evil and Negra to be awesome. It all sounded great. Unfortunately, the overall product is a lacking. Nothing special. Even the shot glasses are simple clear shots with the emblem. The liquor itself is ok at best. I won't be a returning customer.
01/28/2023
Gustavo P.

US
Good lookin glass quality
Good quality wish they still had the resident evil glass.
01/26/2023
Nick P.

US
GREAT
Great taste, mixes well. My wife and I tried a few of the recipes listed on the website and we enjoyed all of them. 10/10 will probably buy again.
01/25/2023
Michael M.

US
Great product!
Easy order. Fast, and tasted amazing
01/22/2023
MOSES G.

US
compliments well.
this glass is very cool it pairs well with the bottle I recieved and I get compliments on them all the time
01/22/2023
MOSES G.

US
Tasty
suprisingly this drink was very tasty didnt have a to powerful after taste. goes down smooth if you take it straight or mix with some energy drink of your choice. I personly would like to see the drink a bit more stronger as for the alc.content but thats just me .hence the 4*
01/20/2023
Michael L.

US
Different. Little to sweet. Not enough alcohol.
01/19/2023
Kayla S.

US
Cocabomb glass
Such a unique design and love the recommended drinks!
01/19/2023
Kayla S.

US
Unique
I love this! My husband is a huge Resident Evil fan and he thought that this was the coolest thing. We were worried that the drink would be nasty but we both enjoy it! My husband says that the drink is fresh and doesn't burn the way normal liqueurs do, he also said that it creeps up on you.
01/11/2023
Mark S.

US
I love it.
Bought as a gift for my brother in Maryland, cause I can't get it shipped here in Hawaii. And I can't find any stores on island that carry your wonderful drink. I would love some more, but it would seem I already rounded up and drank all the bottles on the island, cause I've called around, no one has it or plans on getting more. Much bummer. But, I'm looking forward to visiting MD again, and I'll have to make sure to get a bunch of bottles to bring back with me.
01/10/2023
Beau H.

US
Epic
I really like the cocabomb glasses very cool and unique!!!
01/10/2023
Beau H.

US
Evil
It wasnt terrible but different! It is a cool bottle and makes a great collectible overall reminds me of jaeger.
01/03/2023
Andrew S.

US
Great
It was absolutely great tasting
12/30/2022
Gustavo P.

US
Saw it on Facebook
Saw it on Facebook. It was very easy to order just wish they would have had an option to buy the cup as well.
12/29/2022
Will R.

US
Excellant
I was shocked, the fast delivery was unexpected. The flavor is smooth with very litttle bite on the finish. It is good mixed or straight.
12/28/2022
John C.

US
Smells and tastes JUST like green. Love it.
I saw an ad for this. I've never tried it. Glad I got the opportunity. Makes for a good shot. I like it.

Be the first to hear about new releases and get access to exclusive events.